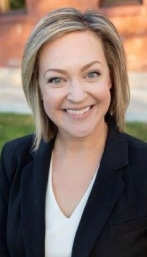 Center for Hearing & Speech Announces Cathy Brown as Executive Director
Local Nonprofit Leader Selected by Board of Directors
St. Louis, October, 2021 – The Center for Hearing & Speech announced today that the Board has selected Cathy Brown as the organization's Executive Director. The Board chose Brown, an established nonprofit leader in providing services to people with disabilities, to direct the organization that has been helping people of all ages with communications disorders for more than 100 years. Brown will begin her new role on November 15.
"We had a significant number of strong candidates and Cathy's experience in nonprofit leadership and her deep knowledge in the field of disability services led us to select her as our next Executive Director", said Robert Aden, Jr., Board member and Chair of the Search Committee. "We are excited to have someone with Cathy's outstanding leadership abilities and service knowledge guide us as we strive to serve even more people," said Travis Threats, Ph.D., Professor and Chair, Department of Speech, Language & Hearing Sciences, Saint Louis University and Board Chair of the Center for Hearing & Speech. "Cathy has a vision and the skills that will result in the Center growing the services it provides to those who need our help", Threats added.
Brown said she "is honored and excited to be selected to lead such a distinguished agency that is doing so much to meet the hearing and speech needs of people in our community. I look forward to growing the reach of the Center's services and the community's support of the important work we are doing. The ability to connect to others through communication is essential for a child's development as well as success in academic, personal and professional lives, for all of us. The Center is changing lives for the better and I am delighted to be part of the vital work it does."
Brown comes to the Center from Easterseals Midwest where she served as the Vice President of Public Policy and the Vice President of Employment and Community Services. Brown previously held leadership roles at Paraquad and Delta Center for Independent Living. She also served as an Adjunct Instructor as the Brown School of Social Work at Washington University. Brown earned a B.S. in Psychology from Truman State University and a Master of Social Work from the University of Missouri – Columbia. Brown has served on numerous Boards and committees and has been deeply involved in advocating for disability services and rights.
About the Center for Hearing & Speech: Headquartered in St. Louis, MO
The Center for Hearing & Speech provides hearing aids, speech-language therapy as well as vision and hearing screenings to children and adults regardless of their ability to pay. The Center is an audiology and speech therapy non-profit, serving the Greater St. Louis Region by providing this high-quality, essential care to anyone, of any income level. For more information about the Center for Hearing & Speech, call (314) 968-4710.